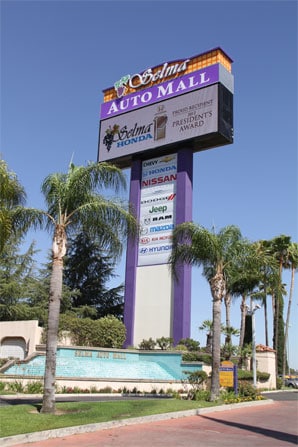 In planning of the Selma Auto Mall in the early 1990's, Dwight G. Nelson, a life-long Selma resident and owner of his family's 90 year-old construction company, Lewis C. Nelson and Sons Inc., felt "In a community like this you have to do business differently. We looked at other car dealerships and what other people had done and we decided to do something we had never seen anyone else do." Dwight Nelson has always been a visionary and a builder at heart.
That was the idea Nelson had as he planned his auto mall in the early 1990s. Like the community in which he lived, he wanted a friendly culture and relaxed atmosphere in his stores. "In a community like this, you go to the grocery store and you know the clerks," Nelson says. "And the people there, they know your family. You have to do business differently."
His thinking? Sure, the whole city could file into a small stadium, but within a 40-mile radius - encompassing Fresno to the north and Visalia to the south - Nelson knew he had over 2 million potential customers. He needed a gimmick to draw them, though. That's where brainstorming with industry professionals and construction expertise took over.
Building came naturally to Nelson. He built a scale model of what he envisioned as Selma Auto Mall to solicit automakers. "I put it in a minivan and drove down to Torrance, visiting Nissan, Toyota and a few other manufacturers," he says.